Nobody Cares But You #3
Not-quite-a-newsletter about growing up and beyond by Nicole Michaelis
How do you balance output for you and output for others?
I don't know how many times I attempted to write this newsletter this month and failed. But that's also the reality of selling your time as a creative — sometimes there is no magic sauce left for your own projects, the projects that often have the highest return on investment when it comes to well-being and energy.
Thanks, brain. I take the hint. So I decided to write about exactly this: how do you balance output for you and output for others (indirectly for you too, as it usually — you know — pays the bills). I find this to be one of the most challenging parts of working as a creative. And as you can tell from my opening paragraph, I have yet to master it myself. I do, however, have some techniques that have helped me tackle this in the past. Here are some of them.
Focus thrice — every month, every week, every day
I'm a big fan of journaling as my journaling sessions usually spiral into planning and help me magically focus on the things that matter most to me. But — I've come to the realization that I need to do this more than I originally expected.
While I do some planning for the next month at the end of every month and also recap this on a weekly basis to make room for changes (there are always a ton of changes), I manage to make the most time for my own projects when I do it daily. Ideally, first thing in the morning.
I'll look at my agenda for the day and just decide that I will make time to write a chapter of my novel, a poem, or to play around with some graphic design. It's a decision that for some reason only ever works on the day. If I try to plan for the same thing a couple of days in advance, it doesn't work. I often end up skipping the me-creativity time and end up doing extra client work instead. Why? I have yet to figure that out.
Remember what got you there
This sounds dumb but is a super-powerful move. What got you into the creative scene in the first place? What landed you your first client? What fuels your passion? Chances are the answers to those questions go way back and started with you drawing, doodling, scribbling, pasting, dancing or singing. Most of us discover our creative side when allowed to play. And when we first try to make a living off our creative brain, it's exactly that which gets us business: personal projects, experiments, things we taught ourselves or did out of our own free will. And even now that we may have dozens of paid client projects in our portfolio, this hasn't changed. Personal projects still show incredible initiative and passion. They add to our narrative. They make us more than our work. And even though they don't pay, they are totally paying off as part of our creative capital.
Sometimes saying goodbye to a client project for the day so I can write my own stuff is as simple as reminding myself of exactly that —what got me there started only with me.
Go out and play.
---
We need to talk about Seasonal Depression
The days are getting shorter and while we may enjoy the coziness and the increased carb intake (cinnamon buns, anyone?) it's a scary season for those of us who get affected by darkness mentally. Seasonal Depression is no joke, and chances are someone around you is suffering. Here's some quick inspiration on what you can do to help:
Book Sneak peek: The opening poem
Most of you know my first book is coming out in less than 2 months. It's a poetry collection centered around the same themes as this newsletter — growing up and beyond. So why not share the first poem in the book right here? It's called Heavy Heart Syndrome.
Winds blowing in from the East

I pull the baker boy hat a little bit lower

Maybe if you hadn't given me Joni or Janis when I was thirteen

things would be different now

No sipping black coffee waiting for line after line to come

I'd haul heavy shopping bags home

I'd be cooking meals

Dancing? Only on Fridays

Singing? Never, really

Instead, I focus all my energy on

holding my body upright

due to this heavy heart syndrome

that plagues me

And I fantasize about

Simplicity

Loving people more and ideas less

How it'd feel to get obsessed

with your concept of happiness

Freedom is just a fancy way of saying

there's nothing left worth chasing

But you know I lie when I say

I'm free now, the tears are dry, I've found my place

It's funny really

how I crave the sun so much

and yet shy away from the light

cover myself in words of wisdom

longing for an endless night

the final revelation

I lead a foolish life
Book of the month
I felt a strong urge to position myself as more intellectual and recommend a non-fiction book this month. F that. The book I enjoyed most during the past 4 weeks was Conversations with Friends by Sally Rooney. It was a quick read. In fact, I read it in one day. And while it isn't the world's deepest plot, it's written in such an impressively reflective way, that it feels like you're almost experiencing every scene together with the narrator.
Things and people moved around me, taking positions in obscure hierarchies, participating in systems I didn't know about and never would. A complex network of objects and concepts. You live through certain things before you understand them. You can't always take the analytical position. - Sally Rooney, Conversations with Friends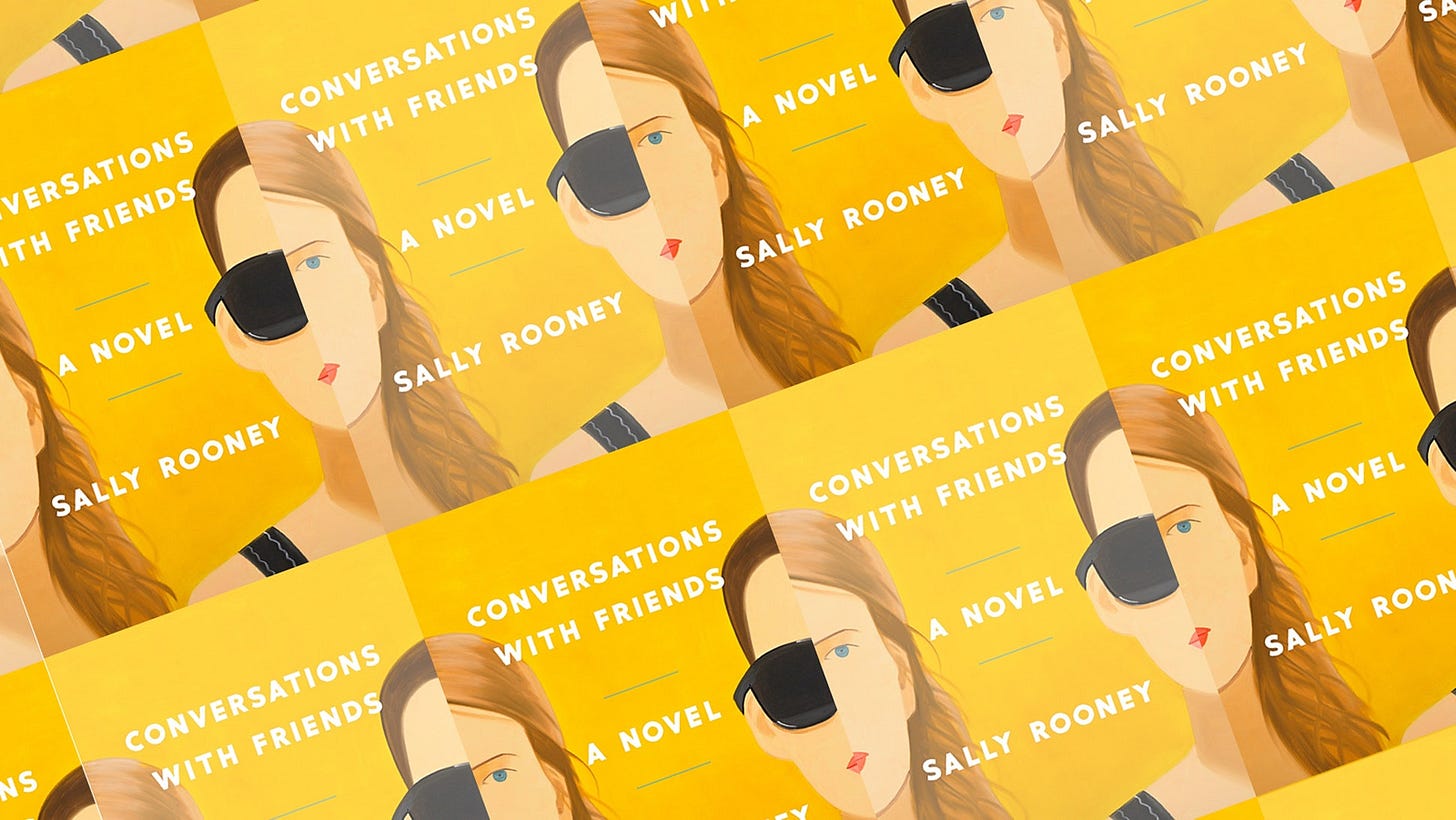 ---
That's it for October. Now leave your desk and chase some autumn sun.
Thoughts? Opinions? Feedback even? Please share by replying to this email or coming @ me on Twitter, Instagram, Medium, Linkedin or via email.
Thanks for reading!
Never truly yours,
Nicole
P.S.: Wanna pay me without spending money? Skim through this quick read to see all the ways you can support me and your other writing friends.